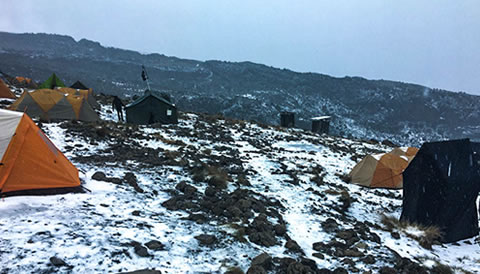 7 Days Machame Route with Crater Camp
Visit Tanzania and take part in hiking the Kilimanjaro via the Machame route on this 7 Days Machame Route with Crater Camp. Contact us to book this safari.
DAY 1 ARRIVAL
Touch down at the Kilimanjaro International Airport where your own personal driver will be waiting to greet you. Let your driver whisk you away to your chosen hotel in the bright and bustling city of Arusha – gateway to Tanzania. Book Now
Arusha is the beating heart of the wild – the last port of civilization before heading out into dense jungles and rich savannah plains. The markets of Arusha burst with color, and throng with locals picking up their weekly wares. The numerous cafes sell dark and deliriously good coffee from the plantations, and close by the infamous National Park lures visitors in to explore her evocative Maasai culture and exotic flora and fauna.
In the evening you will enjoy a quick briefing which will be conducted by professional Bush 2 City Mountain Guide about your trekking, and to ensure if you are ready for climbing.
ACCOMMODATION: Plante Lodge Arusha
DAY 2
MACHAME GATE TO MACHAME CAMP
You will leave Machame gate (1,800 m) after you final preparation for the climb and start trekking through the rain forest (where tropical showers are highly probable) on a winding trail to the first camp, which is located to an attitude of 3, 048 meters. You continue a short distance until you reach Machame Hut 3000m. Your crews will make a camp and prepare the meal for you for overnight.
This will be your first day at this altitude, so it is strongly recommended you to read the following instructions from this point on:  
Abstain from consuming alcohol and caffeine
Drink over 4 liters of bottled water daily (little by little, frequently)
Take a Diamox pill to help alleviate symptoms of altitude sickness. Most mountain climbers take Diamox in the morning, before they start their ascent, in order to reduce discomfort associated with altitude sickness. We recommend you consult your doctor prior to the trip in case of potential allergies.
At night you may experience discomfort associated with acclimatization to the high altitude: because of a reduction in your waking breathing pattern, your body gets less oxygen than during the day. Taking altitude into account, you may therefore start feeling sick and have a headache. Pay attention to your own body and tell your guide if you start feeling any symptoms of altitude sickness.
Change in Elevation: Machame Gate (1,800 m) — Machame Camp (3,010 m)
Hiking distance: 5 km
Hiking time: 5–6 hours
ACCOMMODATION: Machame Camp Mt. Kilimanjaro
DAY 3
MACHAME CAMP TO SHIRA CAMP
After breakfast, you leave Machame Camp and start trekking to the rain forest and continue on an ascending path to Shira Camp (3,845 m). Walking along a steep rocky ridge, covered with heather and followed by a gentle incline. The trekking is not difficult, but you may see the changes in altitude. After lunch a descent and ascent brings you to the camp with a walking time approximately 5 hours.
Note: The acclimatization hike is an easy trek with a slight gain in altitude done in order to speed up the acclimatization process. You should take the acclimatization hikes very seriously. They help increase your chances of successfully summiting Kilimanjaro and save you from the consequences of altitude sickness
Change in Elevation: Machame Camp (3,010 m) — Shira Camp (3,845 m)
Hiking distance: 5 km
Hiking time: 4–5 hours
Acclimatization hike: 
Change in Elevation:Shira Camp (3,845 m) — Destination point en route to Lava Tower (4,120 m)
Hiking distance: 2 km
Hiking time: 1–2 hours
ACCOMMODATION: Shira Camp Mt. Kilimanjaro
DAY 4
SHIRA CAM TO LAVA TOWER CAMP
We trek from ShiraCamp to Lava Tower (4642m). Shortly before the Lava Tower the Lemosho Route merges with the Machame Route. If the weather's good you can ask your guide to lead you to the summit of the Lava Tower (4688m) where the views are excellent. Lunch is normally taken at the foot of the tower. Afternoon acclimatization excursions from Lava Tower to Arrow Glacier Camp before returning to Lava Tower Camp to overnight.
In the event that your guide feels spending tonight at 4642m would not help your acclimatization, he may choose for you to descend to Barranco Camp (3965m) to overnight. Distance from Lava Tower to Barranco is 3.7km. The descent is tiring and should not be underestimated.
ACCOMMODATION: Lava Tower Camp Mt. Kilimanjaro
DAY 5
LAVA TOWER TO ARROW GLACIER CAMP
Trek from Lava Tower Camp (or Barranco Camp if used) to Arrow Glacier Campsite (4871m). Though only a short distance is covered today – 2.5km, taking approximately 1.5 hours, the walk is still exhausting. Afternoon acclimatization excursions on the Western Breach Assault route. You probably won't feel like eating but please endeavour to do so as you'll need the energy reserves. You are advised to get all your gear ready for the summit bid before you go to sleep as you may feel disoriented when awoken for the assault at 0500.
ACCOMMODATION: Arrow Glacier Camp Mt. Kilimanjaro
DAY 6
ARROW GLACIER CAMP TO UHURU (SUMMIT) TO CRATER CAMP
Around 0530 (your guide will judge the time that is optimal for you based on your pace thus far) quit camp for the assault via the Western Breach / Crater rim (5725m) to the summit. The Western Breach assault route to the summit, while the shortest, time wise, is also the steepest. This morning is very difficult and you'll need to commit to fight for the crater rim. You will inevitably feel like giving up and going to sleep. This is normal and can be overcome with perseverance. When resting please ensure you only stand or sit and do not lie down or close your eyes. Please trust your guide; he is very adept at judging whether your condition will allow safe progress or whether you have succumbed to a potentially dangerous condition and to proceed will not be safe. Nausea and headaches are normal and around a quarter of climbers will vomit during this assault. While very uncomfortable, these are not symptoms that are indicative of being at risk, per se. The onset of cerebral and pulmonary oedema are marked by distinctive early warning symptoms that your guide is capable of identifying. Please maintain regular dialogue with him and frequently update him on how you are feeling.
When you reach the crater rim you will sit, rest and admire the views out to the west, and the Furtwangler Glacier to your immediate east. At this point the body often thinks you have finished your uphill fight and will be trying to coerce you into giving up and turning around. While you may genuinely believe that you have already exhausted your reserves in reaching this point, this is actually very unlikely to be so. Remember that you are only 170 vertical metres short of the summit, the journey from here is much less steep, and you have plenty of time for further pauses. If you do feel the need to give up at the crater rim please proceed towards Crater Camp (5729m) for just two minutes before making your final decision. In most cases this act of re-establishing momentum is enough to persuade the mind and body to co-operate with your intentions and you will ordinarily find hidden reserves for a final push, reserve that you were not aware you still had.
From Crater Camp, it is only a short climb (max 1 hour) via the zig-zag track to the summit, passing Furtwangler Point at 5894m.
On the summit your guide will advise how much time you can spend there in consideration of your condition, your timings, and the weather. The brain does not function very intelligently at this altitude so please remember to take many photographs in all directions or you will probably regret not having done so at a later stage.
From the summit you will continue to press eastwards towards Stella Point (5752m) with the massive Southern Icefield, including Rebmann and Decken Glaciers, 100m to your right. At Stella Point you may see climbers coming up the slope from their overnight camp at Barafu (4681m).
After admiring the views out to the south-east, you will turn west and descend the gentle slope to the crater floor before returning to Crater Camp. Having settled and enjoyed refreshments at Crater Camp you have the option of requesting that your guide accompany you to the top of the Breach Wall to watch the sunset over the Shira Plateau.
Distances on summit day:
Arrow Glacier Camp to Crater Camp: 3.5km
Crater Camp to Summit: 0.7km
Summit to Stella Point: 1.2km
Stella Point to Crater Camp: 1.8km
Total summit day's distance: 7.2km
ACCOMMODATION: Crater Camp Mt. Kilimanjaro
DAY 7
CRATER CAMP TO MWEKA CAMP
This morning, provided climbers are feeling strong and motivated and are judged by the guide to be in good health, we rise up from Crater Camp towards the very centre of Kibo and the Reusch Ash Pit viewpoint at 5845m. From here views are enjoyed towards the summit and into the centre of the volcanic cone where fumeroles and sulphur emissions can often be seen. Strength permitting, we continue to circumnavigate the Ash Pit towards the Eastern Icefields and Stella Point, where we begin the descent to Barafu Camp, this time moving left of our ascent route into the Southeast Valley, descending via its loose scree slopes. There is clear logic is descending a loose scree slope; it is far easier on the knees and as the ground collapses underfoot if you take short quick strides it's easy to maintain momentum. We do short bursts and take regular rests, pausing to photograph the Saddle beneath us and Kenya to our left. At Barafu Camp we have a short refreshment break before continuing to Mweka 3090m where we overnight again.
Crater Camp to Stella Point via Crater Excursion: 5.2km
Stella Point to Barafu Camp: 3.3km
Barafu to Mweka Camp: 6.3km
Total day's distance: 14.8km
ACCOMMODATION: Mweka Camp Mt. Kilimanjaro
DAY 8
MWEKA CAMP TO MWEKA GATE
This morning we descend from Mweka Camp to Mweka Gate (1641m) where we sign the summit register. After signing we descend a further 15 minutes on foot to Mweka Village to meet our transport, as the park authorities prefer groups' vehicles to avoid congesting the area immediately beside Mweka gate as this is an important thoroughfare for casualty evacuations and is served by a single track road
Transfer from the gate back to Arusha. You should return back to Arusha sometime between 2 and 5pm, depending on your descent pace. Distance from Mweka Camp to Mweka Gate is 8.5km
Typical tips for mountain crew tend to average some 10-15% of climb cost. All climbers' contributions are usually added together and the total amount is presented to the chief guide at Mweka Gate. Our guides always divide these tips fairly amongst their crew according to a customary scale that is determined by the responsibilities and experience of each staff member.
ACCOMMODATION: PLant Lodge Arusha
Day 9
DEPARTURE
After getting some rest and refreshment at the hotel, your driver guide will take you to the airport ready for your flight back home.
NOTE: Hotel checks out is at 11:00 AM.  In case you need a late check-out because of your evening flight there is a procedural and option to extend your hotel stay for an extra fee
ACCOMMODATION: NONE
End of the 7 Days Machame Route with Crater Camp.