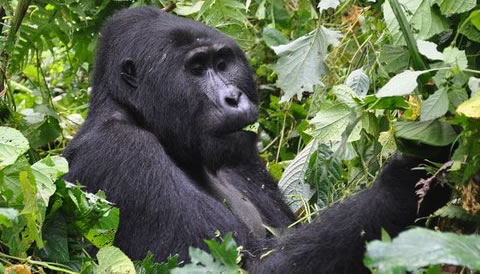 12 Days Gorilla Trekking Safari, Murchison Falls, Wildlife Combo Plus White Water Rafting
Our 12 Days Gorilla Trekking Safari in Uganda takes you to track the mountain gorillas in Bwindi, chimpanzees in Kibale and to explore wildlife in Murchison Falls National Park and Queen Elizabeth National Park. Also visit the Ziwa Rhino Sanctuary and take on the white water rafting experience in Jinja. Do not miss out our 12 Days Gorilla Trekking Safari this season as you plan to visit Uganda soon
Day 1: Arrival at Kigali International Airport Book Now
Arrival at Kigali International airport and be received by Rwanda Eco co. & Safaris. Transfer to your hotel for overnight.
Day 2: Transfer to Bwindi Impenetrable
After morning breakfast visit Kigali Genocide Memorial Centre before embark on a transfer to Cyanika border of Rwanda and Uganda, you will cross the border on this day and transfer to Uganda for the gorilla trekking in Bwindi Impenetrable National Park.
Day 3: Go out for gorilla tracking, plus optional community tour
After an early morning breakfast, walk to the park headquarters for briefing on the dos and don'ts during this activity and thereafter you will proceed to the gorilla trail. Gorilla tracking normally lasts between 2 to 8 hours or even a day to encounter the gorillas. However, you will be allowed to stay in the presence of these awesome apes for at least an hour. It is advisable that you carry packed lunch as one cannot determine how long it may take to encounter the mountain gorillas. 
If time and energy allow, you may take a community tour to the Batwa community after the gorilla tracking. Return to your accommodation, enjoy your evening, dinner and overnight.
Day 4: Transfer to Queen Elizabeth National Park
You will have your breakfast and thereafter exit Bwindi for Queen Elizabeth National Park. Queen Elizabeth National Park is understandably Uganda's most popular tourist destination. The park's diverse ecosystems which include sprawling savanna make it the ideal habitat for classic big game, ten primate species including chimpanzees and over 600 species of birds.
Day 5: Do a morning game drive – Kasenyi plains and boat cruise on the Kazinga Channel
Be up early and have your breakfast. Proceed for a morning game drive to the Kasenyi plains during which you will expect to see Lions, Elephants, Bush bucks, Cape Buffaloes, Defassa Waterbucks, Giant Forest Hogs, Uganda Kobs, among others. Return to your accommodation, have your lunch.
After lunch, you will go for a two-hour boat cruise on the Kazinga Channel which connects Lakes George and Edward and you will surely be fascinated by the concentrations of giant hippos, elephants and crocodiles among others. You will also see many varieties of birds at the water shores.
Day 6: Katwe salt lake tour and then transfer to Kibale National Park
You will visit the Katwe salt lake and interact with the local community about life and salt mining experience. Thereafter, you will return to your accommodation for lunch and then exit for Kibale National Park.
Day 7: Chimpanzee Trekking Kibale Forest and Optional afternoon Bigodi Swamp Walk
You will, after breakfast head to Kibale Forest National park to view the primates with main focus on the chimps. The activity begins at 8.00am with a briefing regarding the rules of trekking the chimpanzees after which you set off to search for them in the forest. 
You will return to the lodge for lunch and if you have time then you can opt to go for the late afternoon Bigodi swamp walk or just relax at your accommodation.
Day 8: Transfer to Murchison Falls National Park
After breakfast, you will exit Kibale for Murchison Falls National Park. Murchison Falls National Park is the largest national park in Uganda and owns 76 species of mammals, 450 bird species including the elusive shoebill stork, dwarf king fisher, the white-thigh hornbill, and the Goliath heron among others. On arrival, check into your booked accommodation, relax, enjoy your dinner and overnight.
Day 9: Morning Game Drive, late afternoon launch trip to the bottom of the falls
After an early breakfast; tour the Northern section of Murchison with a high concentration of savannah wildlife. Enjoy game viewing and photography of elephants, buffaloes, waterbucks, hippos, giraffes, Uganda kobs and lions, the leopards (if you are lucky) plus a variety of bird species. 
After lunch, go for a two-hour launch trip to the bottom of the mighty Murchison falls from where appalling water escapes through the narrow gorge forming a great thunderous uproar.
Day 10: Exit Murchison, Visit Zziwa Rhino Sanctuary, Travel to Kampala
Drive from Murchison Falls National Park early in the morning and head to Kampala. Drive by the Zziwa Rhino Sanctuary to enjoy a trek of these magnificent endangered Rhinos. A well trained guide will take you on an hour walk as you see firsthand how the Rhinos spend their day. 
You will then drive to Kampala. Along the way stop for lunch arriving in the afternoon check into your accommodation in Kampala for the night as you anticipate the next day's activities.
Day 11: Travel to Jinja and Enjoy half day White Water Rafting
After an early morning breakfast transfer from the hotel to Jinja for the most exhilarating adventure sport – white water rafting. What better way to experience Uganda! Get wet, get wild, and get rafting. En route, you will pass through Mabira forest; a natural rain forest and enjoy the beautiful nature sights.
Day: Do a Kampala City Tour and head off to Entebbe Airport
After breakfast, you will head out for the Kampala city tour. Expect excursion to places like the Kasubi tombs, Uganda Museum, Namugongo Martyrs Shrine to mention but a few. Later, you will be dropped off at the airport for your outbound flight home or to your next destination. See you when next.
For visitor seeking to explore Kigai City tour, Rwanda's greatest capital especially a chance to visit the Kigali genocide memorial center, the Nyamirambo women center and the experience the Kimilonko traditional market