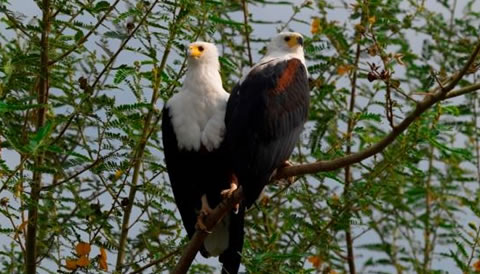 1 Day Birding in Entebbe
Entebbe has been for long well known as the birding paradise in Uganda. The beautiful landscaped Botanical Gardens established in 1901, lie on the shore of Africa's greatest lake. They offer a superb introduction to Uganda's bird species and situated conveniently close to the Capital and the Entebbe International Airport. Contact us to book our 1 Day Birding in Entebbe tour. Book Now
You will be picked by your guide either from Kampala or Entebbe and be driven to the Entebbe botanical garden for your birding experience
The drive from the Airport takes 20 minutes. The garden are actually near the Entebbe Botanical Beach Hotel and while a drive from Kampala is roughly an hour and entrance fee is charged be for the activities. You will then be briefed by the site local guide and thereafter you head for your day birding experience.
The garden host a variety of open country' wetland and woodland species of birds which can be spotted within the garden as you use your binoculars to figure about the where about of the bird sounds
The Botanical Gardens avails you a chance to do birding in an attractive environment very close to Kampala the Capital City and Entebbe International airport. Some of the birds that can easily be sited with then area includes: Great Blue and Ross Turaco, Klaas, Diederik cuckoos Woodland Kingfisher, Black and White casqued Hornbill, African fish Eagle and much more. Other important Bird areas in Entebbe include Lutembe bay and Mabamba papyrus swamp for the rare shoebill stork which involves a canoe ride
You will after return to catch up with your late lunch at your hotel.
End of the 1 Day Birding in Entebbe tour.
The 1 Day Birding in Entebbe package includes;
Service of English speaking guide
Transportation on 4×4 safari vehicle
Entrance fees
The 1 Day Birding in Entebbe package excludes expenses of personal nature like: Air fare, Visa, drinks, laundry, tips to local guides, telephone, porter fee while trekking, personal insurance, personal shopping bills and cigars.